For guidance, advice and pricing for your print product
(even if it's not listed on this site) please use our contact page.
An experienced consultant will respond as soon as possible.

We possess the knowledge and skills to assist you in establishing your brand. We can provide you with everything you need to create a successful advertising campaign. We can even assist in getting your materials distributed and into the hands of your targeted audience.
Our team of experienced staff will ensure you receive the product that you want, when you want it.
We pride ourselves on producing and delivering quality goods with industry leading service and efficiency. Be it Corporate, Professional or Personal - print it with Cracker Print and Paper.
We can provide you with everything you need to keep the everyday functions of your business running smoothly. Including all kinds of branded stationery, whether for internal use or when making contact with clients.

We understand that a company's public profile is critical to marketplace success and offer services and products that ensure your presence gets noticed, whether you're a new business looking for a foothold or established and seeking to gain a fresh edge.

Even in a modern business environment driven by technology, there are still areas where a traditional approach to client relations and record keeping is the best option. We can provide you with the materials to maintain that personal touch with your clients and staff.


Personal stationery and special event orders are handled exclusively through The Stationery Boutique. A subsidiary of Cracker Print and Paper Pty Ltd. Click the logo below [opens in new tab] to browse a comprehensive range of offers and stationery related resources.

Take some of the effort out of organising your special occasion with our custom printed stationery. To give your event that personal touch our experienced staff will create a design to your specifications.
We also have a range of ready-made designs available for viewing should you require a little inspiration.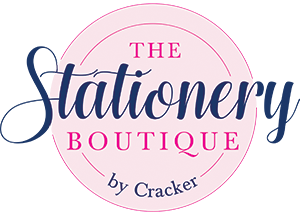 Whether crafting for fun or creating your own accessories for an event, we have a wide range of elegant and colourful components to choose from.
Our Specialty papers include everything from heavy weight metallic card to a wide range of coloured light weight stock.


Please note the following considerations:
Design work is charged at an hourly rate of $99.00 inc. GST. Consultations are available and initial consultation is at no cost. Additional charges may be incurred should supplied artwork files not meet printable requirements (requirements vary per job. Please contact us for further details).
A proof will be supplied on approval of quote. It is the customer's responsibility to check proofs thoroughly, (the proof approval is separate from the quote approval) and Cracker will not be held liable for artwork errors on finished jobs supplied as per approved proof.